Love Summer, Not Humidity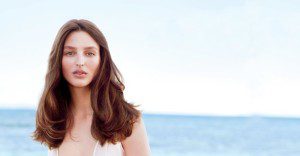 We love summer, and we love Houston—but we know our guests can't stand the havoc the Houston humidity wreaks on their hair. The good news? You've come to the right place. We have more than a few tips and tricks for keeping frizz at bay.
Knowledge is power.
Learning more about the role humidity plays in amping up frizz is key to counteracting its effects. Your hair is pretty crafty and will soak up any moisture it can get if it's feeling parched—which means if there's any water lingering in the atmosphere (hello, Houston summers), your hair will sip it in faster than you can down lemonade poolside. Once the moisture is absorbed into your hair, it swells and returns to its natural state—sending your styling efforts straight out the window.
Here's how you can stop that process in its tracks.
Start in the shower.
Choose a shampoo and conditioner with nourishing properties. While you might be tempted to shy away from heavy moisturizing products during the summer months, we're happy to report that there are plenty of excellent lightweight hydrating formulas out there. (Personally, we love Aveda's Smooth Infusion™ and Dry Remedy™ lines.)
If your hair is particularly dry or coarse, go the extra mile and add 1-2 drops of Dry Remedy™ Daily Moisturizing Oil to damp hair before styling.  
Step up your styling.
Once you've laid a strong foundation with a hydrating shampoo and conditioner, it's time to move onto the next step: creating a barrier to actively keep humidity out.
Start with a prep product (especially if you're heat styling)—we love Smooth Infusion™ Style-Prep™ Smoother, which defends against humidity for up to 12 hours. If you have curly hair and want to keep it that way, though, we recommend Be Curly™ Style-Prep™, which moisturizes to help keep curls defined and frizz-free.
More of the air-dry type? Reach for Smooth Infusion™ Nourishing Styling Crème. It provides lightweight moisture, fights humidity, and works equally well with straight styles, curls, or loose waves.
Hone your blow-drying technique.
If you're blowing your hair out, technique is everything. Pull the hair taut with the brush of your choice, and make sure you only direct the blow dryer down the hair shaft (pointing at the ends). This keeps the surface of the cuticle smooth and encourages hair to lie flat.
Finish with a drop of Light Elements™ Smoothing Fluid (if your hair is coarse) or a spritz of light hold Air Control™ Hair Spray (if it's prone to getting weighed down).
Now get out there and soak up the sunshine, worry-free.
Leave a Comment