Tulasāra™: a Skincare Transformation
Aveda is transforming how we take care of your skin. We've just launched the Tulasāra™ line, which we're so excited to introduce. It's all about high-performance meeting high touch, it's wildly different—and it's effective.
The name Tulasāra™ means "moving toward balance" in Sanskrit and is a family of advanced performance skin care and facials that helps accelerate skin's natural ability to restore itself.
This is skin care like you've never seen before. For at-home use, there's a brush, new amazing oils and a facial massage ritual, which combined promote circulation, radiance and beautiful, beautiful balance.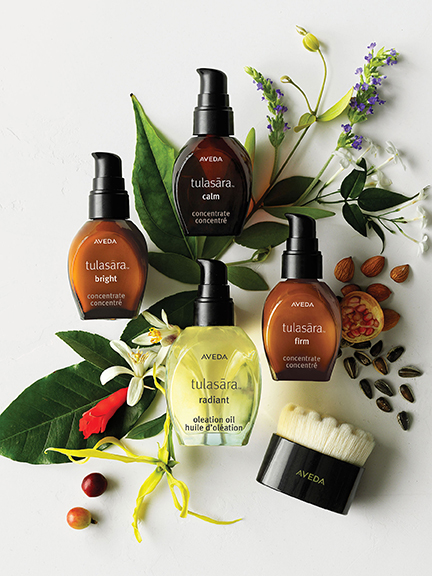 Source: Aveda
Here's how it works.
Part 1: The Home Care Ritual
The Tulasāra™ Radiant Awakening Ritual is a daily, two-step skin care ritual of gently dry-brushing the face, neck and décolleté, followed by self-massage to help promote microcirculation and immediately leave skin looking more radiant.
(Dry skin brushing is rooted in Ayurvedic tradition and known to help release toxins and dead skin cells, stimulate the lymphatic system and improve microcirculation).
You'll only need 2 tools:
The Brush
There's the cute, oval-shaped brush, which you rub in circles to exfoliate and promote smooth, refined skin. (Don't worry, it comes with directions.)
The bristles are ultra-soft (they're made out of nylon) and it fits perfectly in the palm of the hand. As you dry brush, it glides over the skin, with optimal access to all the curves of the face.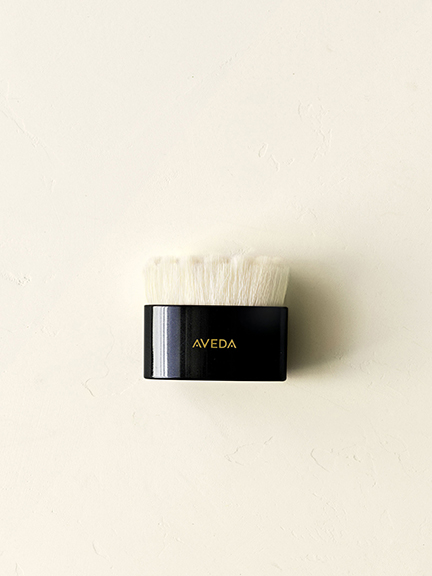 Source: Aveda
The Oil
The Tulasāra™ Radiant Oleation Oil is a 100% naturally derived blend of six plant oils, including certified organic rose, jasmine and geranium, that help nourish the skin and restore skin radiance. You can just imagine how heavenly it smells.
The oil is massaged in and soaks into the skin for immediate results. (again, directions are supplied, but you can't really do it wrong)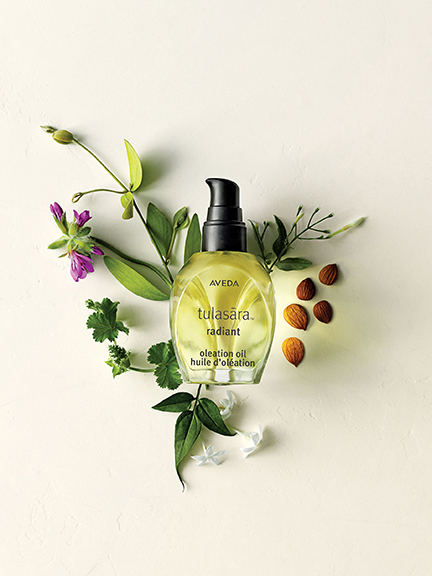 Source: Aveda
The Results

94% of women in trials reported skin immediately felt smooth, refined and nourished, and 85% reported skin immediately looked more radiant.
The relaxation properties are a nice perk, too.
The Serums— for improved results
You can also add a Tulasāra™ Concentrate to the mix, for more dramatic results. These serums help accelerate the skin's natural ability to restore and rehydrate itself. They are available in three targeted formulas—Firm, Bright and Calm. (We can help you choose the one that's best for your skin).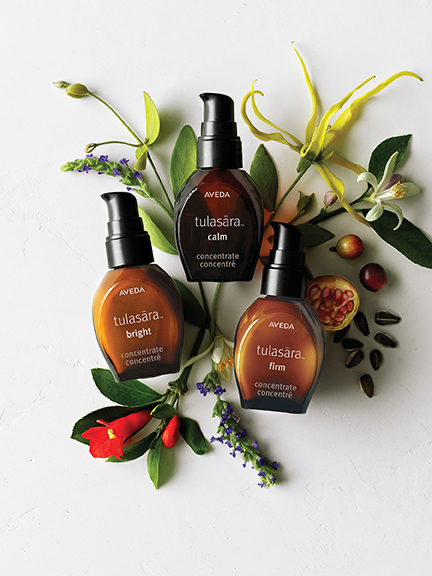 Source: Aveda
---
Part 2: The Facials
And then, there are the Facials, only available in-spa with the Aveda Tulasāra™ ™ professional grade products. Whatever your skin concern- skin that's Dry, Sensitive, Oily, Acne-prone, or needing Exfoliation, there's a Tulasāra™ facial for you.
These high-performance, customized facials deliver immediate, visible results in just one treatment. (Think of it like the ritual you can perform at home, but the much more advanced version.)
The esthetician follows Aveda's signature facial design system, which is all about treatment customization, allowing them to spend the most time using the technique that will achieve the most results for your skin type.
---
We're proud of the approach taken with this line. Aveda is uniting ancient Ayurvedic wisdom with the latest clinical research in skin care, filling a void in the skin care industry.
Leave a Comment