Switch over to the bright side: Why changing up your routine has major benefits
Grandma may have sworn by beauty sleep, sun hats and nightly cold cream applications, staying faithful to the same brand for years. No disrespect to our elders, but skin care has come a long way since then. Your skin's needs can change with the season, your diet or your lifestyle, so why should your routine stay the same? The new year is a perfect time to treat your skin to cutting-edge products that deliver visible results after as little as one use. Grandma would be amazed (but trust her on the sun hats and beauty sleep).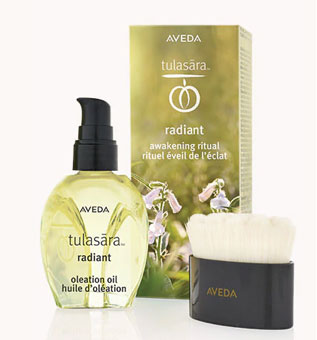 Source: Aveda
Breaking out of a rut
If you're stuck in a rut with your skin care routine, it's good to examine the reason why. Take a look at your medicine cabinet and ask yourself if you're stuck on autopilot. While consistency isn't a bad thing when it comes to skin, if you're still following the same cleanse, tone and moisturize protocol you picked up at the cosmetics counter in high school, you're due for an overhaul. Fortunately, Aveda's new Tulasara line has the answer. A three-step ritual that involves dry-brushing, oleation oils and concentrates, it's unlike anything your skin has experienced before.
Start by dry-brushing your face, neck and décolletage with the petite, soft-bristled Radiant Facial Dry Brush. Not only does this promote microcirculation, slough off dead cells and help skin eliminate toxins, it's also an invigorating wake-up call. Get ready for a major glow! Next, massage a few drops of Radiant Oleation Oil, a blend of six fragrant, organic, naturally-derived plant oils, to your face and let it sink it for a few minutes. Cleanse and tone skin and finish with an application of Bright, Calm or Firm concentrates, depending on your skin's unique needs.
Source: Aveda
How to make the switch without stressing your skin
If force of habit isn't the main factor behind a routine that's become, well, a little too routine, it could be that you've found products that work well enough for you, and you don't want to throw your skin for a loop by experimenting with something new. That's a valid concern! But keep in mind there's an opportunity cost. By sticking with the same routine day in and day out, you miss chances to treat your skin to products with proven results. Tulasara's Wedding Masque is one of those can't-go-wrong, scientifically-backed products. The rich masque is packed with powerhouse ingredients like turmeric extract, plant stem cells and organic apricot seed oil. In a clinical test, 100 percent of users showed brighter looking skin after wearing the masque overnight, and 85 percent showed a reduction in the appearance of dark circles.
So why not give Wedding Masque a test drive? The only thing you have to lose is your fine lines.
Creative Commons/ Source: Isabell Winter via Unsplash.com
Bring in the pros
We get it: a new skin care product can be hit or miss (not to mention an investment of time and resources). If you're unsure about your skin's needs, the best products for you or how to incorporate them into an existing routine, we've got just the package for you. Our Awaken The Glow skin care package bundles products, value, expertise and straight-up nurturing into one affordable sum of $170 (a discount from the $238 value). You'll get a 60-minute facial using Tulasara spa products, the Radiant Facial Dry Brush and Radiant Oleation Oil from the Tulasara radiant awakening home ritual, and one Tulasara concentrate of your choice.
Best of all, a knowledgeable esthetician will walk you through the whole process and guide you to the products uniquely suited for your skin. That means you won't just walk out of the spa looking radiant – you'll have the know-how and the tools to capture that just-had-a-facial glow at home every day.
Here's the bottom line: Any kind of change to your life can feel like a risk. But the greater risk is always staying the same.
Here's to you – and the new!
Leave a Comment