FIVE QUICK SOLUTIONS FOR THIN HAIR
Thinning hair. It's one of the most universal hair issues that people have to deal with, and it affects millions of men and women. Whether it's loss caused by hormones or thinning due to chemical damage, it's just as difficult to deal with.
Fortunately, we now have some tricks up our sleeve to help repair and camouflage fine, thinning hair.
1. Try the Invati™ at-home treatment regime
Aveda's Invati™ and Invati Men™ treatment systems for thinning hair combine ayurvedic wisdom and revolutionary plant-based science to combat the three concerns that people with thinning hair face.
Those three concerns are:
• dry, tight scalp with buildup
• weak, dull hair that breaks easily
• slowed hair growth and increased shedding of hair, often age-related
The Invati™ system uses a shampoo, a conditioner and a scalp treatment to address all three of these. Invati Men™ makes it even simpler with a two-step process and a different concentration tailored to men's specific needs.
The results? Your hair feels thicker, fuller and stronger, your scalp feels revitalized, and you keep more of the (newly lush) hair you have.
2. Treat yourself to an in-salon Botanical Treatment
One of the very best things you can do for you hair in-salon is a professional conditioning treatment, and Aveda's Botanical Therapy treatments are the top of the line.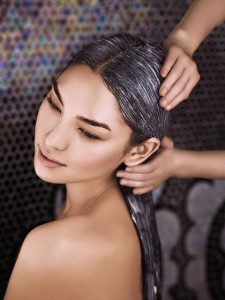 For hair that's thinning because of damage or over-processing, the repair treatment with quinoa protein dramatically improves hair and leaves it stronger, softer, and more supple.
Or for even more intense treatment, a hair and scalp treatment is like a spa for your head. It begins with a scalp detox treatment and ends with a moisture or repair treatment.
3. Rethink hair extensions
News flash: Extensions aren't just for Kardashian wannabes.
We carry a top line that's called Platinum Seamless. They're a quicker, easier, totally customized solution for hair that's in need of some length and/or volume. You can even spot-treat specific problem areas if you don't want them all over. The bonds are incredibly thin and lightweight, and unlike a lot of other extensions, you don't feel like you have a bunch of little tabs stuck to your head.
If you're not ready to commit to permanent extensions, you can try a temporary-wear piece like Halo extensions. Halo is a super easy-to-use hair piece (or weft) that you can take out at night, and that's great on hair of any length.
4. Use strategic cut and color for a little bit of smoke & mirrors.
Darker color at the roots with some subtle highlights tend to give hair a bit of depth. This doesn't mean you need to go for the blonde hair/black roots look; you're aiming for something just a few shades darker at the root than on the ends.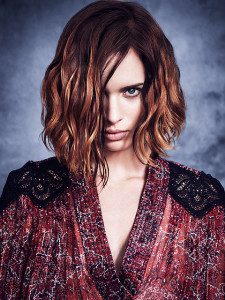 For shorter hair, triangular haircuts have the illusion of a blunt edge that makes the hair look thicker and makes the hair look as if it's falling in a thicker way. Style it with a round brush, and you have a bouncy, healthy-looking bob.
For longer hair, a blunt cut is a good way to make the ends of the hair look thicker, with a few shorter layers added in the top for extra movement and volume, and some face-framing layers to soften the look.
5. Try Aveda's plant and science-based styling products
Phomollient™ Styling Foam. This stuff is a go-to when blow drying for crazy good volume. Squirt some on your hands and then work it into the hair starting at the roots before styling for extra oomph.
Pure Abundance™ Hair Potion. This magic powder-to-liquid formula works like a charm to infuse thin, limp hair with natural-looking volume. Like a dry shampoo and a volumizer all in one, it's been said this potion works like teasing, but without all the knots and damage.
Leave a Comment