Come Relax at Josephine's!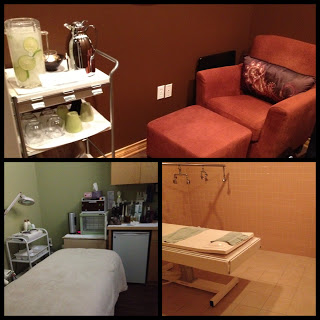 As you all know, Josephine's Day Spa offers a full menu of services, ranging from Hair Care and Nail Care to Spa Treatments and Permanent Makeup—but have you ever indulged in all of these treatments? We wanted to take the time out to give you a full description of a few of our relaxing services… Just in time for Mother's Day!
The bottom left-hand corner contains a picture of our Facial Spa Treatment room. All of our customized facials focus on corrective techniques. You can choose from skin exfoliation, face and neck massage or a masque treatment. We assure you that you will have the ultimate relaxation experience.
The bottom right-hand corner is a photo of our Body Treatment room. This is definitely the room to go to if you're in need of a little "me-time." It will also help to enhance that summer glow everyone wants. We perform a variety of different treatments, such as Aqua Polishes and Body Wraps. These will leave your skin feeling completely renewed, and baby soft! The scrubs used with these treatments are designed to exfoliate the skin, and promote a healthy glow.
The picture at the top is our relaxation room. This room is strictly for relaxation purposes only! We want you to enjoy every moment of your experience at Josephine's. Before and after each spa service you receive at Josephine's, you will get the opportunity to sit down, relax, have a glass of fruit infused water, or a cup of Aveda Comforting Tea.
Leave a Comment