Your Worst Summer Hair Problems – Solved!
Frizzy hair, sunburned scalp – isn't summer fun? Sure, we love the summertime, but that doesn't mean we don't spend those three months griping about the flat strands, outrageous frizz, sun-bleached color, the list goes on. If you're like us and adore the warm weather but hate the bad hair days, keep reading for the best solutions to the most common summer hair woes.
Weather Woe:
Sunburned Scalp
Oops! You didn't know you were supposed to grease your scalp with SPF along with your shoulders, face, legs, back, etc. Don't worry; the scalp is one of the most commonly missed spots, when it comes to SPF. Who wants a greasy scalp full of SPF anyway? We suggest a summer hat or a scarf to match your bathing suit.
It's true, the sun, the sand and surfing can all be pretty rough on your hair, but it is really the heat that causes split ends. Dried-out ends turn brittle and start splitting apart, we suggest running into Josephine's for a Botanical Treatment and trim, ASAP!

Weather Woe:
Frizz from Humidity
During the summer, the hair cuticle absorbs the added moisture in damp air, causing it to expand, which creates that lovely frizz. The best defense against this poufy effect is a smoothing product, such as Aveda's Smooth Infusion Style-Prep, or Aveda's Be Curly Style Prep. Both perfect for either straight or curly hair—they do weather wonders!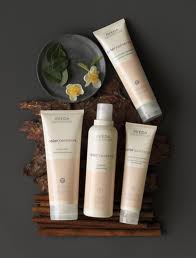 Getting a few too many rays isn't just damaging for your skin, it can be harmful to your color too! We suggest using a color preserving shampoo and conditioner—and by that we mean Aveda's Color Conserve. We also think you should come into either Josephine's location for a toner! This adds shine, preserves color, and adds vitamins and nutrient back into your hair! It lasts up to 6 weeks—perfect for the summer.
There you have it, your worst summer hair woes—solved!
Leave a Comment