Party Season Makeup Tricks
Party season makeup trends
Party season is upon us! And no matter where your social calendar takes you, you'll no doubt want to plan your look ahead of time. This season we're seeing a range of looks—from colorful eyeliner to ombré lips—sure to delight and inspire. Read on for four of our favorite showstoppers.
Don't be afraid to go natural
We're loving the no-makeup trend—and Josephine's owner Vivian Yeh is on board. So is Alicia Keys, for that matter. We watched in wonder as she routinely walked the red carper sans makeup all year, crediting her fresh-faced look (and healthy diet) for a major skin transformation. To avoid appearing too undone, Vivian recommends applying a touch of barely-there color to one or two areas of the face.
One way to achieve the look: Apply minimal mascara, groom your eyebrows and swipe on some eye shadow in a bold color of your choosing. Got green eyes? Try a shade of green!
"People with green eyes tend to shy away from green eye shadow," Vivian says. "But they shouldn't. The green or turquoise tones will actually bring out the green in the eyes."
Can't imagine baring all (on your face) in public? Vivian says putting on minimal foundation and powder will help ease the transition, instead of going cold turkey. Use a light and gentle moisturizer that will brighten your face, such as Aveda's Tulasara Bright Concentrate. Dab the drops onto your cheeks and forehead to get the coverage you need for a natural look.
P.S. Vivian, who recently returned from NYFW, confirmed that the natural look was all the rage at a variety of shows this past fall. Talk about on-trend.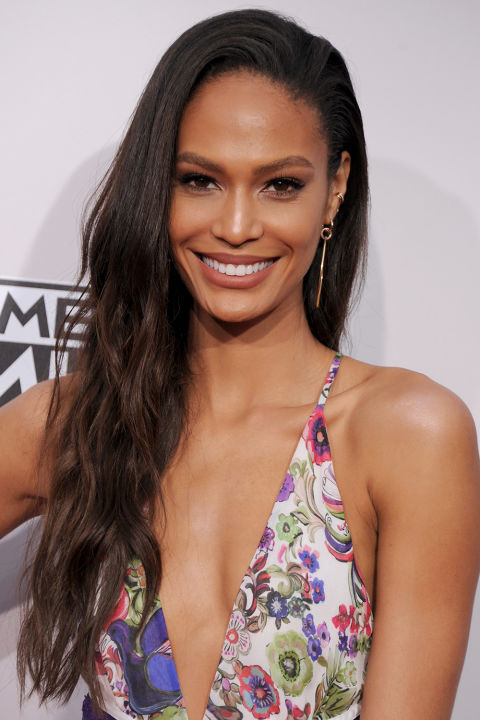 Getty | Source: Harper's Bazaar
The ombré trend is moving to the lips
We've loved seeing—and performing—the trending ombré look on many of our guests' hair. This holiday season, the style is moving to the lips. To achieve an ombré-esque look, outline your lips with a red liner. Add a lighter color to your center, then finish by blending the two together And remember, you aren't just restricted to the classic red! This winter, we're loving inky-hued berry shades and super chic nudes (which pair perfectly with winter whites). Below, Vivian creates the ombré look on a model.
Source: Lia Rose Photography
A pop of color goes a long way
Colorful eyeliner is the easiest (and probably the most fun) holiday look trending this season. For inspiration, look no further than Emma Stone's take (below), in which the subtle pops of color are done perfectly. With blue on bottom and purple on top, her face and outfit both pop. While we usually try to avoid anything that's too matchy-matchy, we're loving the ways these blues complement one another.
Jim Smeal/BEI/Shutterstock | Source: Refinery29
Speaking of complementing, when trying to rid your face of dark circles, choose a concealer a few shades darker.
"People tend to choose the lighter shades or the exact shade but instead of covering it, it accents it and turns a shade of green/blue," Vivian explains.
Dark colors have orange and red tones, which help to eliminate the green and blue tones from the dark circles. To finish, use concealer that matches your skin tone on top of the darker concealer you just applied.
The bold lip is a sure bet
A classic look we hope never goes out of style? The bold lip. It's a no-fuss holiday statement that wins every time. Speaking of time, if you're pressed for it— say you get off at 5 p.m. and the party starts at 6 p.m.—a bold lip is an easy way to dress up your outfit and complete your look.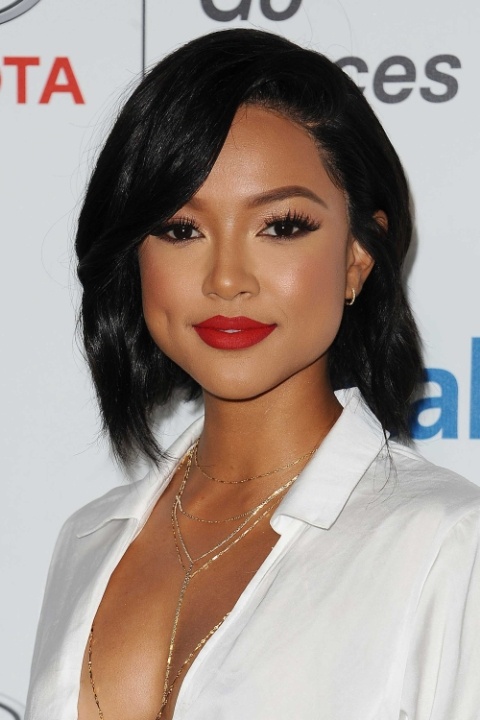 Getty | Source: Cosmopolitan
Book today before it's too late
With all the options, it's time to start making decisions now of which look you'll rock. Can't decide? We can help. Book a reservation today. Our makeup services include full face, eyes only, an application with a lesson, and onsite applications (we come to you).
Leave a Comment